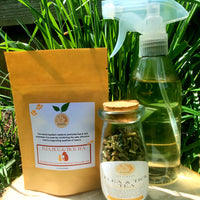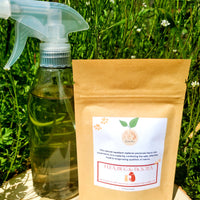 This flea, bug and tick protection replaces standard pesticide treatments. We've combined the invigorating & fresh qualities of nature to deliver safe, effective repellant with lemongrass, cedarwood, thyme. Safe for dogs and cats of all ages when used as directed.
Suggested Use:                                                                                                   

Brew 2 tsp or 1 tea bag in hot water for 15 minutes. Let cool to room temp & transfer to a 4 oz spray bottle. Spray/mist a thin coat onto fur and gently rub in. Use daily, in high risk areas, dog parks & peak season as needed.
1. We all have our unique sensitivities so this is good practice before starting any new product. Test a small area at the base of the neck 1 hour before full body application to check for sensitivity
2. Rub your pet's coat in the opposite direction of growth, spray, and rub in. Lightly, mist/spray body, belly, legs, and tail.
Be careful not to soak your pet or oversaturate. 
For face application, spray tea onto your hands and rub onto pet's ears and face, avoiding the mouth, nose and eyes. 
3.  If your cat or dog prefers a different approach
, we suggest applying tea by hand. Simply mist/spray into your hands and massage on to your cat or dog. 
4.  To repel bugs, apply to pets every 2-3 days and each time you go to a high-risk  area like a dog park.
5.  Add to your regular cleaning schedule to freshen the home and treat areas frequented by pets. This is a water-based product with oil.
6.  Storing in the fridge can extend time but each batch can last up to 14-30+ days. 
Here are some added benefits to using our Flea, Bug & Tick Tea:
Provides conventional flea & tick protection

30+ days of protection

No plastic waste, minimal packaging

Invigorating & great smell

Made without artificial colors, dyes, or fragrance

Vegan